Post by Deleted on Aug 13, 2010 12:25:05 GMT 10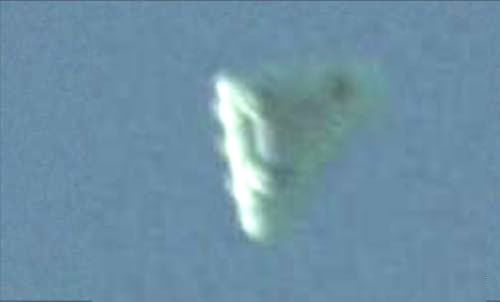 The Ultra Top Secret TR-3B

The TR-3B is NOT fiction and was built with technology available in the mid- 1980s or earlier. The triangular shaped nuclear powered aerospace platform was developed under the Aurora Program with SDI and black budget monies.

The tactical reconnaissance TR-3B's first operational flight was in the early 90s. Technology assuredly developed from reverse engineering of recovered alien artifacts and programs such as the SR-74 and SR-75 was used in the TR-3B.

At least three of the billion dollar plus TR-3Bs were flying by 1994.

The TR-3B vehicle's outer coating is reactive to electrical stimulation and can change color, reflectiveness, and
radar absorptiveness, thus making the vehicle look like a small aircraft or a flying cylinder--or even tricking radar
receivers into falsely detecting a variety of aircraft, no aircraft, or several aircraft at various locations.

A circular, plasma filled accelerator ring called the "Magnetic Field Disrupter" surrounds the rotatable crew compartment and is far ahead of any imaginable technology. Sandia and Livermore laboratories developed the reverse engineered MFD technology. The government will go to any lengths to protect this technology.

The MFD generates a magnetic vortex field that disrupts or neutralizes the effects of gravity on mass within
proximity by 89 percent. This is not antigravity. Anti-gravity provides a repulsive force that can be used for
propulsion. The MFD creates a disruption of the Earth's gravitational field upon the mass within the circular
accelerator.

The mass of the circular accelerator, and all mass within the accelerator, such as the crew capsule and the nuclear reactor, are reduced by almost 90%. This causes the effect of making a vehicle extremely light and able to outperform and outmaneuver any craft yet constructed--except, of course, those UFOs we did not build. The TR-3 is a reconnaissance platform with an indefinite loiter time. "Indefinite" because it uses a nuclear reactor for power.
www.abovetopsecret.com/forum/thread4390/pg1
Aurora (SR-91 Aurora) is the popular name for a hypothesised United States reconnaissance aircraft, alleged to be capable of hypersonic flight.

The Aurora was supposedly developed in the 1980s or 1990s as a replacement for the aging and expensive SR-71 Blackbird. A British Ministry of Defence report from May 2006, released under the Freedom of Information Act, refers to USAF priority plans to produce a Mach 4–6 highly supersonic vehicle.[2] In September 2007, DARPA and the USAF signed a memo of understanding[3] to build a Mach-6 unmanned aircraft called "Blackswift" under the Force Application and Launch from Continental United States (FALCON)[4] program. It is believed that the Aurora project was canceled due to a shift from spyplanes to high-tech unmanned aerial vehicles and reconnaissance satellites which can do a similar job as a spyplane, but with less risk of casualties or loss of highly expensive, sensitive equipment. On April 23, 2010, the US Air Force carried out a test launch of an unmanned hypersonic glider, the Falcon Hypersonic Technology Vehicle 2
Now there is a very good reason I think both these aircraft exsist.
Its because this is not in service anymore............
The SR-71 Blackbird was retired from service in 1998, it was the worlds fastest plane, a fantastic spy system.
A country needs a sophisticated spy plane, its a better system than satellites as it can be deployed quickly with out the hassle of rerouting a satellite over an unexpected hot spot and unlike satellite there is no hassle with orbits and weather.
So without the SR-71, the US would have to rely on the outdated and obsolete U2, which they wouldn't do.
A military never retires an effective and necessary system without a ready replacement, the TR3B is that replacement, but they will never admit to flying a nuclear powered aircraft of foreign soils, or home soils for that matter, so we may be waiting a long time for the press release on this aircraft.
Interesting side note, I did hear that the front view of the SR-71, this view
Is identical to the front view of the Roswell UFO, its where they got the airframes stealth ideas from.