Post by shaggietrip on Jan 9, 2017 2:26:20 GMT 10
To get things started and idea of what thread is about.
DarkHeart posted:
Got stuck for something to eat a couple of weeks ago & came up with a quick BBG chicken dish that is great for one & would work for a crowd, easy even on the crappest of grills. Spicy Chicken breast strips
Plain old chicken breasts (fillet) just cut into half inch (12 mm) strips. The muscle on the back is OK by it's self if you remove the tendon, then remove any other bits of fat gristle, then cut into strips. Get a suitable bowl & pour a good half inch of virgin olive oil in, add some strong soy sauce (eg Tamari) , tip of a teaspoon of Chilli or cayenne pepper, tip of a tea spoon of cumin & a full heaped teaspoon of coriander, black pepper to taste. Put the sliced chicken in the oil mix & stir it up, then go light your grill, by the time the charcoal is ready so is the meat. Remove meat from oil to a plate before grilling or there will be too much oil on it & it will drip on the coals & catch fire. Cooks in less than 10 mins unlike any other chicken on the grill, ready when golden & will be tender & moist. Easy peasy.
Cook of mine.
RatRodRob posted:
Well a week ago I caught my biggest snapper at 80 cm and 6kg, it is a PB for me and as promised I have cooked it up yesterday (sunday) and here are the results
it was in my freezer for 5 days and then I let it thaw for 2 days in the fridge, then got everything ready and I set everything up,
fire is goin getting coals together
I put snapper on BBQ then remembered I forgot to video the basting of the fish, what I did was to rub olive oil and sea salt and pepper onto the fish after I had scored it with a sharp knife, I then drizzled lemon juice over it and put lemon slices into the cavity
I chucked some spuds in, I had had a few coldies by now..............
Yippee time to hoe in, it turned out better than I could have hoped, thank you to my wife and some of her family for the beautiful salads and condiments.
flsts1:
Steaks on da beach! Don't matter how badly you fuck them up...everything is better with sand and sun!
Smothered in freshly ground ginger and garlic...w/cracked pepper...there was some conch as well but they didn't make into the gallery (think some blood got into my alcohol system and sobered me up for a minute there
Spock:
Starting early today. Last week the chicken was so good I decided to do it again. Last week it was boneless, skinless thighs, this week it's boneless skinless breasts. Started marinading in Balsamic Vinaigrette dressing yesterday morning. Soaked hickory wood chips - that really makes it, that sweet smokey flavor - holy cow! er chicken!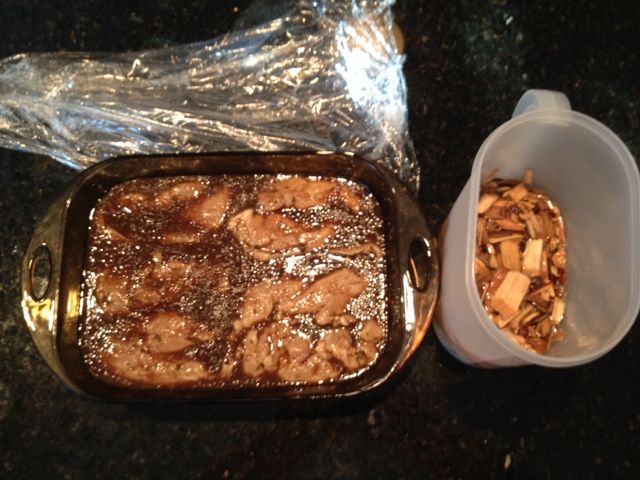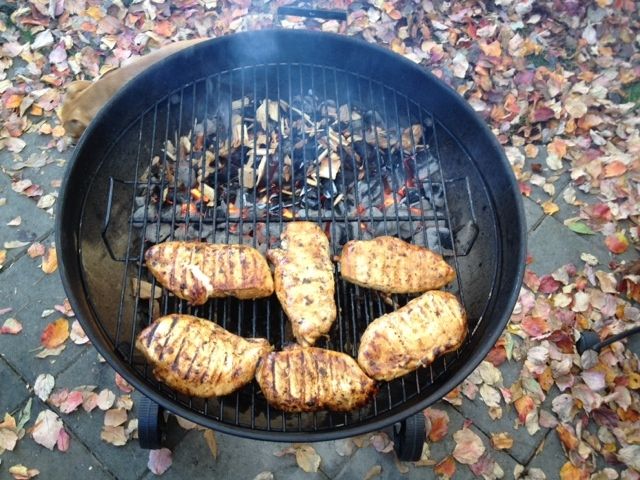 Have figured out that the key to PERFECT grilled chicken is an internal temperature of 160 degrees in the thickest part. Even white meat will be moist. The picks above are not done cooking yet, they're at 140 now.
Done and Perfect!
Slith:
Grilled zucchini (I thought I'd stay in tune with the zucchini thingy lately), roasted potatoes, shrooms and onions in a balsamic vinaigrette. (done on the barbie), Venison steaks, rye crostinis served with an Espagnole sauce with a touch of black currant coulis. The flowers are edible and picked from my Hostas in the back yard.
I am sure you get the Idea. Get you grill on!